Bottle Rocket's Founder & CEO was invited to give the opening keynote at his alma mater, Southern Methodist University (SMU), during their 2019 Digital Summit. Here's a synopsis of his talk along with a video recording from the event.
The Connected Lifestyle Is Here! Are You Ready?
We all know that the digital revolution is in full swing. Both emerging and existing engagement technologies can unlock tremendous value for your business and for the customers you serve.
But are you truly ready to embrace this new normal we've come to know? Which technologies are "must haves" and which experiences will garner deep loyalty? How do all of your digital experiences fit together into a cohesive ecosystem that exceed the ever-changing wants and expectations of your customers?
At the intersection of business and the connected user's goals lies opportunity. We call this intersection the Connected Lifestyle and those companies that embrace it will thrive while others will be left behind. The digital experiences that your company creates are already being compared to the likes of Starbucks, Uber, Netflix, and Facebook, among others. These brands are your competition whether you realize it or not. This is the new normal. For Connected Consumers (or for employees,) digital experiences are as important, if not more so, than the product or service your company makes or sells. And they expect these experiences to be seamless across all digital touchpoints from websites to apps to voice skills, chat bots, virtual reality, augmented reality, and beyond. No matter the industry, no matter the company, the implications of not paying attention could mean huge things for your business.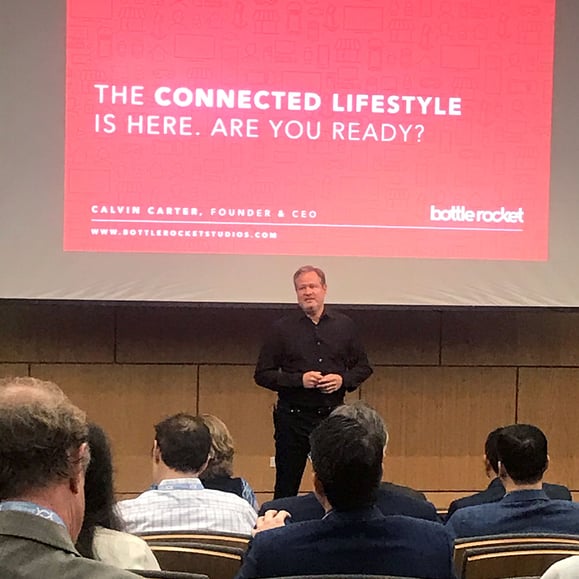 Join Calvin Carter, Founder & CEO of Dallas-based Bottle Rocket, as he highlights his experience building an award-winning experience-based technology company in North Texas that is leading many of the world's most distinguished brands head on into the Connected Lifestyle. Carter will take a deeper dive into the Connected Lifestyle and share how companies can overcome the challenges that they will face as they move toward success in this turbulent, and ever-changing world of technology.
Watch the full session here: https://vimeo.com/363619274