Over 3,000 volunteer hours were contributed to creating updated websites for 25 non-profits during the first Dallas 48in48 event. The event, now in its fifth year, has held events in various other U.S. cities and plans to do its first international event in London later this year. Event founders Jeff Hillmire and Adam Walker are passionate about giving back to the community and also helping nonprofit organizations do even more good in the world. State Farm served as the founding sponsor and Bottle Rocket donated its space for the weekend event.
A dozen volunteer teams, including five Rocketeers, volunteered their talents to give back to non-profits by designing logos and building new websites. Additional volunteers helped organize the event and run the logistics that are required to help make this magnitude of an event possible. For more information on the event, visit https://48in48.org/dallas/.
Kathy Meadows, Founder and Executive Director at Mission Possible Kids, one of the nonprofit organizations enrolled in the Dallas program, said the 48in48 event arrived at a pivotal time for her organization as their website is expiring. "We needed a change quickly because the platform we were on won't be available next month," Meadows said, "Our website would've gone defunct, so this is saving us thousands of thousands of dollars."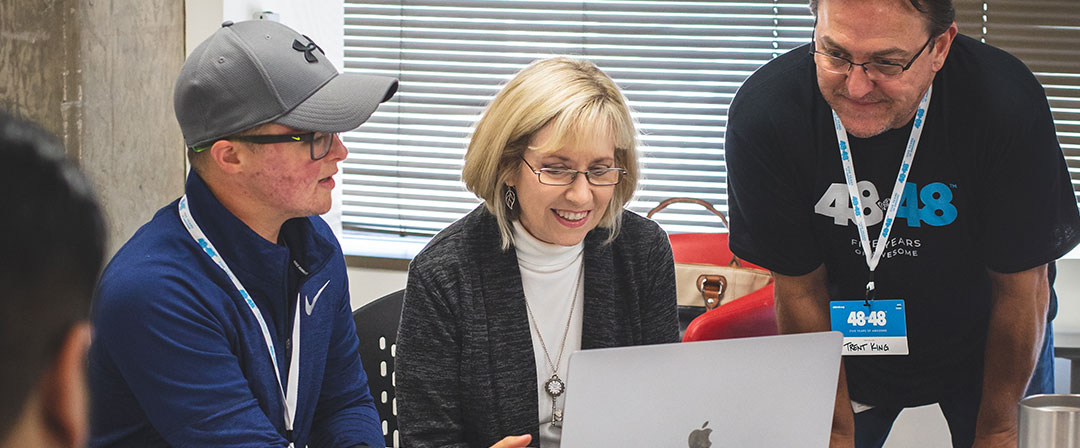 Meadows said though the application process for 48in48 was intense, everyone was 'super helpful.'
"I don't have the website building skills even if I wanted to...what would've taken me a hundred years, these volunteers can do in a weekend."

Kathy Meadows
Adam Walker, co-founder of 48in48, said he was excited for Dallas to be the seventh city to host the 'hackathon style' event in 2019. "Hosting at creative agencies or creative spaces like Bottle Rocket really provides a lot of energy. The team members you've got here seem to be pretty amazing," Walker said.
Walker said he hopes that all professionals that participated were able to recognize that they can use their coding, designing and web talents to give back to others.
He said simply giving time to make a website or create content for these nonprofits can, "make a huge impact in the world."
While really everyone that participated deserves recognition for their hard work, the event hosted a fun competition at the end of the event to award first, second and third place awards to the three teams that created, what four judges deemed, the most improved and creative out of the 25 websites made in the 48 hours. Awards were given to the teams of volunteers that worked on Open Hand Outreach Program (O.H.O.P), Just Bakery, and Break Bread, Break Boundaries. New websites for each of these organizations will be launched soon.